William Hunter Goodwin Jr. "Bill"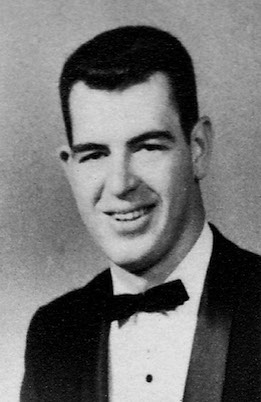 2014
Contact Information:
Pledge Class: Charter Member
Charter Brothers: Bob Trafton · Jo Jo Holloway · Ken Love · Charles Powell · Rad Satterfield · Joe Stras · William Tunstall · Doyle Van Meter · Clyde Hale · Frank Widgens
Little Brother:
Birth Year:
Graduated in 1962
Major: B.S. Mechanical Engineering
Significant Other: Alice Tolley Goodwin
Children: Hunter Goodwin (1968), Molly Goodwin (1969), Matthew Goodwin (1971), Camp Goodwin(1980), & Peter Goodwin (1984)
Pi Kappa Office: VP of Founding Class
Occupation:
Hobbies:

---

We have a champion for the human cause, a living legend in our midst, and the Pi Kappa Brotherhood is very proud to even be remotely attached to the success of our Brother, one of our Pi Kappa, Alpha Chapter Charter Brothers, William H. "Bill" Goodwin, Jr. Bill graduated from Virginia Tech in 1962 with a Bachelor's Degree in Mechanical Engineering. He later served a Tour of Duty as a U.S. Army Ordinance Officer in Germany then in 1966 received a Master's Degree from the University of Virginia's Darden School of Business. He began his career with IBM, and later left the company to start Commonwealth Computer Advisors in 1971, a computer leasing company. Bill started his independent business career with $6,000. At his core, he's a no-B.S. Entrepreneur and perhaps his greatest feat was eventually selling AMF Bowling Group in the mid-nineties to Goldman Sachs investment group and generously sharing $50 million with his 4000 employees. He and his wife, Alice, have given tens of millions of dollars to Virginia Commonwealth University, the University of Virginia, Virginia Tech, and the engineering and medical communities associated with each University and far beyond. Goodwin increased his business portfolio by purchasing and eventually selling various companies such as AMF Bowling, AMF Bowling Centers, AMF Bakery Systems and the Ben Hogan Company. Goodwin is currently Chairman of the Board of CCA Industries Inc, a diversified holding company whose assets include CCA Financial, Bag Boy Company, Pompanette Inc. and various investments and real estate holdings. In addition, CCA owns and operates several hospitality businesses, including The Jefferson Hotel in Richmond, Va., The Hermitage Hotel in Nashville, Tenn., Kiawah Island Resort outside of Charleston, S.C., Sea Pines Resort in Hilton Head Island, S.C., and most recently Keswick Hall in Keswick, VA near Charlottesville. Bill and his wife, Alice, have sought to improve the human condition through their support for cancer research by creating the Commonwealth Foundation for Cancer Research and through their philanthropic support of many non-profit organizations in ways that exemplify the University's motto of Ut Prosim (That I May Serve). Nov. 15, 1999, William H. Goodwin Jr. and his wife, Alice T. Goodwin, pledged a $13.3 million unrestricted gift to the University of Virginia's Darden Graduate School of Business Administration, the largest single gift in the institution's 45-year history. Combined with earlier anonymous gifts, the Goodwins' financial support to Darden exceeds $25 million, making them the school's largest donors and among the most generous contributors to the University of Virginia. "We are deeply grateful for Bill and Alice's support, exemplified in their aspirations for the school and in their ability to inspire others," Dean Edward A. Snyder said. "Darden facilities and technology are now world class providing us with an important competitive edge." It was Goodwin, as chairman of the school's trustees in the early '90s, who set Darden on its modernization course. At his urging, the school abandoned plans for a modest renovation of its old building and launched planning and construction of the Darden Grounds, an ensemble of state-of-the-art facilities designed in the Jeffersonian style. "These facilities would not exist today without Bill Goodwin's leadership, vision and generosity," Snyder said. "This latest gift will make it possible for Darden to maintain its competitive edge in facilities and technology, to further enhance its MBA programs and to expand its relationships with cutting-edge businesses." Goodwin's funding plan for the expansion was trail-blazing. It was the first modern example of a Virginia public university financing new facilities entirely through private sources, allowing for greater design creativity and efficiency without adding to the tax burden of state residents. This approach has since been adopted by other institutions across the Commonwealth and will be repeated by Darden when construction of Phase II begins this summer. Goodwin lives by the advice he gives to Darden MBAs during presentations at the school: tell the truth, live a good and moral life, and give something back. "Alice and I believe in sharing our time and financial resources to help others," he said. "At Darden, I was fortunate to meet a great group of students and to have benefited from an energetic and caring faculty," Goodwin said. "Dean Charles Abbott and Professor Paul Hammaker were outstanding mentors. They helped provide the inspiration that enabled me to have a wonderful family and a challenging and rewarding career." University of Virginia President John T. Casteen III describes Goodwin as "a moving force in Darden's evolution. Goodwin served on the Darden Foundation's Board of Trustees from 1986-95 and was chairman from 1990-92. He was the first recipient of Darden's Charles C. Abbott Award and was elected to the Raven Society in 1999. He has served on the University's Board of Visitors since 1996. Alice Goodwin attended Mary Baldwin College and received a bachelor's degree in medical technology from the Medical College of Virginia in 1966. A long-time community leader, Alice Goodwin is a member of the Board of Trustees for The Virginia Home, a not-for-profit organization that cares for Virginians with physical disabilities, a member and past president of the Three Chopt Garden Club, a member of the steering committee for the Richmond Alumni Chapter of Mary Baldwin College and, with her husband, she co-chairs the capital campaign for the Robert E. Lee Council, Boy Scouts of America. The Goodwins' gift brings the Darden Campaign total to more than $130 million. May 19, 2005, The Virginia Tech Alumni Association honored alumnus William H. Goodwin Jr. with its 2005 Distinguished Achievement Award winner during the university's Founders Day celebration May 13-14, 2005. The Virginia Tech Alumni Association Distinguished Achievement Award is presented annually to recognize distinguished achievement, personal and/or professional, in any field of endeavor of enduring significance and value to society. Goodwin has given his time and leadership to countless non-profit organizations whose boards have benefited by his expertise including the University of Virginia Board of Visitors, Collegiate School, the Darden School Foundation, the Virginia Commonwealth University Engineering Foundation, the Science Museum of Virginia, and the Virginia Tech College of Engineering Committee of 100. Goodwin's commitment to Virginia Tech has helped the university create outstanding facilities and programs for students and faculty including Torgersen Hall, The River Course, and scholarships and professorships for the Corps of Cadets and the College of Engineering. • The American Cancer Society honors persons who have made outstanding contributions in the field of cancer research. William and Alice Goodwin cut their net worth in half to fund research on cancer. Through their Commonwealth Foundation for Cancer Research, the Goodwins have also directed $88.5 million to several cancer facilities in the US:
• John Hopkins University's Oncology Center in Baltimore
• Memorial-Sloan Kettering Cancer Center in New York
• University of Texas M.D. Anderson Cancer Center in Houston
• The Cancer Center, University of Virginia Health System, Charlottesville
• Mayo Clinic Cancer Center in Rochester, Minnesota
• William and Alice Goodwin also catalyzed the events leading to the formulation of Gleevec, the revolutionary medicine for leukemia.
• The Goodwin couple has contributed $25 million to the Massey Cancer Center of Virginia Commonwealth University. They were also instrumental in the building of the school's cancer research laboratory, which stretches 80,000 square feet.
• The Commonwealth Foundation for Cancer Research also supports education through its contributions to the University of Virginia and the engineering school of the Virginia Commonwealth University. William and Alice Goodwin pledged $32.5-million to the University of Virginia's School of Engineering. May 21, 2013 The University of Virginia's Board of Visitors on Monday unanimously elected William H. "Bill" Goodwin Jr. to a two-year term as vice rector, citing his wisdom, depth and breadth of experience and profound commitment to excellence at the University. Starting July 1, Goodwin will serve two years as vice rector with incoming Rector George K. Martin. Goodwin will then become rector in 2015 for a period of two years. Goodwin has a long and distinguished history with the Board of Visitors. He was appointed to the board by Gov. Robert F. McDonnell in January to fill the unexpired term of R.J. Kirk. Prior to the appointment, Goodwin was serving in the post of senior adviser to the board. Goodwin first served on the board from 1996 to 2004, first appointed by then-Gov. George Allen. During his two-term tenure, Goodwin chaired the Finance Committee and the University of Virginia Investment Management Company. He also served on the Executive Committee, the Medical Center Operating Board, the Buildings and Grounds Committee and the U.Va. College at Wise Committee. He is currently vice chair of the Finance Committee. He has also chaired the Board of Trustees of the Darden School of Business Foundation. During the vote at Monday's regular meeting, many board members praised Goodwin's prior board service and his deep understanding of the purpose of public education. Rector Helen E. Dragas commended Goodwin's vision for shaping the University's sustainable future. "Bill's leadership comes from more than just the breadth and depth of his experience and wisdom. His willingness to ask the challenging questions – and his resourcefulness and collaborative nature to bring people together to find the answers – will serve this board well into the future," Dragas said. "With dramatic shifts affecting higher education funding, educational content delivery and academic quality, U.Va. needs fearless voices to champion solutions that keep the University of Virginia one of America's best public universities and ensure all students gain from an affordable, high-quality educational experience." Dragas added: "Bill has a lasting impact on everything to which he chooses to devote his time and energy. The University is indeed blessed to have his leadership." BLACKSBURG, Va., Sept. 18, 2014 – Virginia Tech has renamed its Signature Engineering Building in recognition of the philanthropy of Alice and Bill Goodwin. Goodwin Hall will be formally dedicated on Oct. 24 at 10:30 a.m., and is located near the corner of Prices Fork Road and Stanger Street.
The Richmond couple committed the largest single donation in Virginia Tech history to help fund construction of the 155,000-square-foot, $95.2 million facility, which opened in June and hosted its first classes in August. "The mechanical engineering degree I earned from Virginia Tech helped me, and I believe in giving back," said Bill Goodwin, who graduated with a bachelor's degree in 1962 and later earned an M.B.A from the University of Virginia. The Goodwins initially made their gift anonymously. "I'm thrilled to have their name on the building," said Elizabeth A. "Betsy" Flanagan, Virginia Tech's vice president for development and university relations. "The Goodwins' support to our institution is helpful, and it certainly deserves this recognition." The Goodwins have a long history of supporting Virginia Tech, and they are charter members of the President's Circle of the Ut Prosim Society, the university's most prestigious donor recognition group. Bill Goodwin received Virginia Tech's University Distinguished Achievement Award in 2005, one of the university's highest honors. The Virginia Tech Board of Visitors approved the building naming on Sept. 15. The board also approved the naming of dozens of prominent, interior spaces within the building in recognition of major gifts toward its construction made by other donors. "The importance of Goodwin Hall to the continued growth and excellence of our college cannot be overstated," said Richard Benson, dean of the Virginia Tech College of Engineering. "Speaking not only for myself, but for all our students, faculty, and staff, I want to thank the Goodwins for their leadership gift on this project, and to also thank each and every one of the more than 150 donors whose generosity helped us make this spectacular building a reality." Goodwin Hall contains eight classrooms; an auditorium; 40 instructional or research labs; and 150 offices for faculty, staff, or graduate students. The building is expected to receive LEED certification, and was designed so that researchers can track data on settlement, wind load, and other structural factors.